Office 2011 for Macintosh: The Missing Manual
(ebook)
(audiobook)
(audiobook)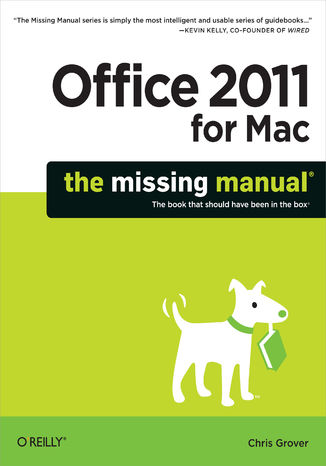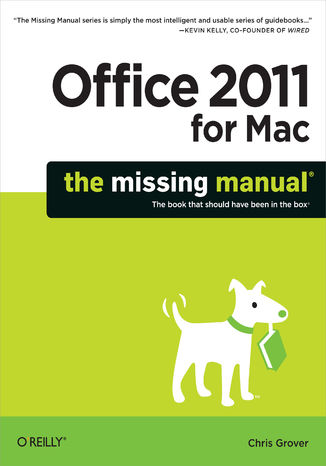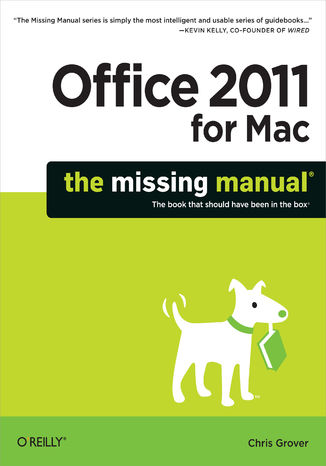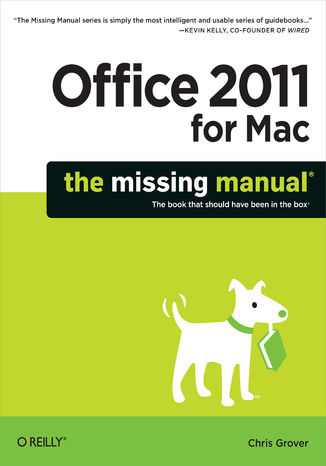 Ocena:

Stron:

816

2w1 w pakiecie:

ePub

Mobi
Opis

książki

: Office 2011 for Macintosh: The Missing Manual
Office 2011 for Mac is easy to use, but to unleash its full power, you need to go beyond the basics. This entertaining guide not only gets you started with Word, Excel, PowerPoint, and the new Outlook for Mac, it also reveals useful lots of things you didn't know the software could do. Get crystal-clear explanations on the features you use most -- and plenty of power-user tips when you're ready for more.
Take advantage of new tools. Navigate with the Ribbon, use SmartArt graphics, and work online with Office Web Apps.
Create professional-looking documents. Use Word to craft beautiful reports, newsletters, brochures, and posters.
Crunch numbers with ease. Assemble data, make calculations, and summarize the results with Excel.
Stay organized. Set up Outlook to track your email, contacts, appointments, and tasks.
Make eye-catching presentations. Build PowerPoint slideshows with video and audio clips, animations, and other features.
Use the programs together. Discover how to be more productive and creative by drawing directly in Word documents, adding spreadsheets to your slides, and more.

Podobne produkty
Ebooka przeczytasz na:
czytnikach Inkbook, Kindle, Pocketbook i innych

systemach Windows, MacOS i innych
systemach Windows, Android, iOS, HarmonyOS

na dowolnych urządzeniach i aplikacjach obsługujących formaty: PDF, EPub, Mobi
Masz pytania? Zajrzyj do zakładki Pomoc »
Audiobooka posłuchasz:
w aplikacji Ebookpoint na Android, iOS, HarmonyOs

na systemach Windows, MacOS i innych
na dowolonych urządzeniach i aplikacjach obsługujących format MP3 (pliki spakowane w ZIP)
Masz pytania? Zajrzyj do zakładki Pomoc »
Kurs Video zobaczysz:
w aplikacji Ebookpoint na Android, iOS, HarmonyOs

na systemach Windows, MacOS i innych
na dowolonych urządzeniach i aplikacjach obsługujących format MP4 (pliki spakowane w ZIP)
Szczegóły
książki
ISBN Ebooka:

978-14-493-0271-9, 9781449302719

Data wydania ebooka:

2010-12-17 Data wydania ebooka często jest dniem wprowadzenia tytułu do sprzedaży i może nie być równoznaczna z datą wydania książki papierowej. Dodatkowe informacje możesz znaleźć w darmowym fragmencie. Jeśli masz wątpliwości skontaktuj się z nami sklep@helion.pl.

Język publikacji:

angielski

Rozmiar pliku ePub:

28.7MB

Rozmiar pliku Mobi:

28.7MB
Spis treści
książki
Office 2011 for Macintosh: The Missing Manual

SPECIAL OFFER: Upgrade this ebook with OReilly
A Note Regarding Supplemental Files
The Missing Credits

About the Author
About the Creative Team
Acknowledgements
The Missing Manual Series

1. Introduction

Keeping Up with the Macs
More Integrated Than Ever
Whats New in Office 2011

Word
Outlook
Excel
PowerPoint
Office as a Whole

The Very Basics
About This Book

About the Outline
AboutTheseArrows
About the Online Resources
Missing CD
Registration
Feedback
Errata
Newsletter
Safari Books Online
1. Word
2. Word Basics: Opening, Editing, Saving, Printing

Document Basics Covered Quickly
Creating New Documents

A Quick Tour of the Document Window
The Minimalists Document Window
Creating Documents from a Template

Opening Documents
Your Point of View
Basic Editing in Word

Natural (and Un-Natural) Selection
Selecting Text with the Keyboard
Undo, Redo and Repeat
Save Me
More Saving Graces
Reducing File Size
Document Password Protection
Save to Web Page
Share Word Documents via Email
Printing from Word
3. Advanced Editing in Word
Toolbars and the Ribbon

The Standard Toolbar
Introducing the Ribbon
Space-saving Ribbon Tricks
Lists: Bulleted and Numbered
Making Lists with Bullets
Making Numbered and Multi-level Lists

Restart numbering at 1
Managing Multi-level lists
Customizing Words Automatic Lists
Line, Page, and Column Breaks
Paragraph Break
Line Break
Page Break
Column Break
Section Break
Find and Replace
Using the Search Box
The Find and Replace Sidebar
The Advanced Find and Replace Window

Search and replace special characters
Find specific formatting
AutoText: Abbreviation Expanders
Spelling and Grammar
Check Spelling as You Type
Checking Spelling and Grammar All at Once
Spelling and Grammar Options
Writing Styles
Custom Dictionaries and Preferred Spellings

Editing the custom dictionary
Creating a new custom dictionary
Adding and removing custom dictionaries
Foreign language dictionaries
Choosing custom dictionaries before spell checking
AutoCorrect
Adding and Formatting Tables
Creating Tables
Creating a Table from the Ribbon
Using the Insert Table Box
Drawing a Table
Editing Your Table
Formatting Tables
Inserting Photos and Media
Inserting a Photo
Playing Audio and Video in your Word Documents
Recording and Running Macros
Creating a Macro
Running a Macro
The Macro Organizer
Learning about Visual Basic
Organizing Your Templates
4. Setting Up Documents and Pages
Let Word Format Your Document Automatically
Choose a Template

Using Templates
Modifying, Saving, and Installing Templates
Choose a Theme
Finding More Themes
Saving and Sharing Custom Themes
Choose a Quick Style
Writing with Style
Get a New Look with Quick Styles
Manually Formatting Your Document
Choosing Paper Size and Layout
Changing Paper Size
Setting Paper Orientation
Setting Margins
Selecting Preset Margins
Setting Custom Margins
Using the Ruler to Set Margins
Setting Margins for Booklets
Adding Color, Borders, and Watermarks
Choosing Page Color
Adding a Border
Adding a Watermark
Adding Page Numbers, Headers, and Footers
Adding a Page Number
Removing Page Numbers
The Easy Way to Add Headers and Footers
Manually Adding Headers and Footers
Dividing Your Document into Sections
Formatting Paragraphs with Styles
Modifying an Existing Style

Exploring the Modify Style box
Overriding a Style Setting
Reverting to the original style
Clearing formatting
Showing Style Guides
Manual Paragraph Formatting
Paragraph Alignment
Indenting Paragraphs

Using the ruler to indent paragraphs
Spacing Between Paragraphs
Spacing Between Lines
Setting Tabs
How tab stops work
Viewing tab marks in your text
Deleting and editing tabs
Types of Tabs
Managing Tab Settings with the Ruler
Setting tab stops
Adjusting and removing tab stops with the ruler
Managing Line and Page Breaks
Formatting Individual Characters
Formatting as You Type with Shortcut Keys
Formatting with the Ribbon or the Font Box
Changing Capitalization
Small Caps for Headers
Advanced Font Formatting
5. Printing Documents, Envelopes, and Labels
Choosing a Printer

Setting Your Default Printer
Advanced Print Settings
Exploring Printer-Specific Properties
Printing to an Adobe PDF File
Printing Part of Your Document
Printing Envelopes
Printing Labels
Changing Your Print Preferences
Understanding Mail Merge Basics
Common Types of Merge Documents
Mail Merge Lists
The Six Phases of a Mail Merge
Running the Mail Merge Manager
1. Select Document Type
2. Select Recipients List
3. Insert Placeholders
4. Filter Recipients

Choosing a comparison option
Sorting your recipient list
5. Preview Results
Complete Merge
Advanced Merge Techniques
Merging to Labels and Envelopes
Merging to Labels

Editing labels
Yet another way to format labels
Merging to Envelopes
6. Working with Long Documents
Switching to Outline View
Promoting and Demoting Headings
Controlling Subheads During Promotion or Demotion
Moving Outline Items
Showing Parts of Your Outline

Expanding and Collapsing Levels
Showing and Hiding Text
Showing Only the First Line
Showing Text Formatting
Notebook: Collecting Random Thoughts
Opening Your Notebook
The Notebook Ribbon

Use the Home tab for daily note taking
Changing your notebooks appearance
Audio Notes tab when you dont want to write
Organizing Your Notes
Setting text levels with the keyboard and mouse
Sorting headings
Placing Notes Beside Your Notes
Flagging action items
Important enough to track in Outlook?
Typing Less with Audio Notes
Entering an audio note
Listening to an audio note
Manipulating Notebook Sections
Labeling sections
To line or not to line
Numbering Pages
Navigating a Large Document
Creating a Table of Contents
Updating Your Table of Contents
TOC the Harder Way: Using Other Styles
Formatting Your Table of Contents

Quick formatting for tables of contents
Detailed formatting for tables of contents
Deleting a Table of Contents
Creating an Index
Marking an Index Entry
Building an Index
Updating an Index
Deleting an Index
Deleting an Index Entry
Navigating with Hyperlinks
Inserting and Removing Bookmarks
Cross-Referencing Your Document
Deleting Cross-References
Cross-Referencing Figures
Making a Table of Figures
Creating Footnotes and Endnotes
Inserting Footnotes and Endnotes
Formatting Footnotes and Endnotes

Deleting footnote and endnotes
Inserting Citations and Creating a Bibliography
Adding a Citation
Adding a Bibliography
7. Moving Beyond Text: Publishing Layout View
Starting with a Template: Ready-to-Use Page Designs
Choosing and Using a Template

Arranging the Way Objects Overlap
Adding, Removing and Rearranging Pages
Adding Text and Text Boxes
Formatting Text
Add Color to Your Text Box
Flowing Text Between Boxes
Adding Photos, Clip Art, and Other Graphics
Formatting Graphics
Aligning Objects on the Page
8. Working Collaboratively
Adding Comments

Deleting Comments
Highlighting Text
Tracking Changes While Editing
Tracking and Viewing Changes

Showing and hiding types of changes
Showing and hiding reviewers markup
Customizing your markup view
Printing Edits and Markup
Accepting and Rejecting Changes
Comparing and Merging Documents
Merging Two Documents
Protecting Your Document from Changes
Sharing Documents over SkyDrive or SharePoint
2. Outlook
9. Outlook: Email and Life Management 101

Starting Outlook the First Time
Outlook Tour
Sending Emails with Outlook

Email Fancy Formatting
Embedding a Picture in Your Email

Adding a Background Picture or Color

Getting Photos from Cameras, Scanners, and Screenshots
Sending Attachments with Your Email
Adding Hyperlinks to Your Email
Creating and Using Email Signatures
About Digitally Signed and Encrypted Email
Receiving Email
Downloading Pictures
Categorize and Arrange Your Emails
Setting Up a Schedule to Send and Receive Email
Managing Junk Mail
10. Managing Your Contacts
Creating New Contacts

Adding Email Senders to Your Contacts

Editing, Adding and Deleting Contacts
Putting Contacts on the Map
Syncing Outlook Contacts with Your Mac Address Book
Importing Contacts
Importing Contacts and Other Data from Outlook for Windows
Creating Contact Groups
Organizing and Searching for Contacts
Printing Contacts
11. Calendar: Meetings, Tasks, and Notes
Creating Appointments and Meetings

Adding Appointments
Editing and Deleting Appointments
Creating Recurring Appointments
Adding Meetings
Sending Updates and Canceling Meetings
Responding to a Meeting Invitation
Adding Holidays to Your Calendar
Removing Holidays
Filtering the Displayed Events
Printing Calendars
Be Your Own Task Master
Taking Note
Creating Notes
Emailing and Forwarding Notes
Printing Notes
12. Customizing Outlook and Managing Data
Changing the Look of Outlook
Creating Your Own Categories

Using Categories to Filter the View

Working with categories in E-mail view
Using Folders and Smart Folders
Manually Adding Folders in Notes and Email
Creating Smart Folders
Using Advanced Searches to Create Smart Folders
Creating Email Rules
Create Multiple Outlook Identities
Using My Day As Outlook Lite
3. Excel
13. Basic Excel

Spreadsheet Basics

Opening a Spreadsheet
Data Entry
Basic Formatting
Kinds of Data

Tedium Savings 1: AutoComplete
Tedium Savings 2: Formula AutoComplete
Tedium Savings 3: AutoFill

Selecting Cells (and Cell Ranges)
Moving Things Around

Cutting, copying, and pasting
Paste Special
Drag-and-drop
Inserting and Removing Cells
Find and Replace
Erasing Cells
Tutorial 1: Entering Data
Formula Fundamentals
Functions
Function screen tips and AutoComplete
The AutoSum button
Looking up functions with the Formula Builder
Order of Calculation
Tutorial 2: Yearly Totals
14. Building Advanced Workbooks
Naming Cells and Ranges

Creating Names Quickly
Using Names to Look Up Data
References: Absolute and Relative
Workbooks and Worksheets
Working with Multiple Worksheets
Exporting Files

Excel 97-2004 Workbook (.xls)
Comma separated values (.csv)
Tab delimited text (.txt)
Excel template (.xltx)
Web page
Spreadsheet properties
Advanced Formula Magic
Nested Formulas
The Formula Builder
Circular References
Connecting to Other Workbooks
Auditing
15. Excel Data Magic
Excel Tables, the New List Maker
Building Your Table

Naming Your Table and Renaming Headers
Adding New Records and Fields
Rearranging Rows and Columns
Deleting Records, Fields, and Entire Tables
Converting and Deleting a Table
Table Formatting Tricks
Automatic Formatting with Table Options
Conditional Formatting for Cells
Sorting and Filtering Your Table
Hide and Seek with Table Filters
Applying Multiple Filters
The Calculating Table
Building a Lookup Formula for Your Table
Working with Databases
Fetching FileMaker Pro Data

Step 1: Import the database
Step 2: Choose only the data you want
Grabbing Data from the Web
Importing Data from a Text File
Analyzing and Viewing Your Data
Making a PivotTable

Step 1: Choose the data source
Step 2: Choose the cells
Step 3: Pivot
Step 4: Build the table
Step 6: Massage the data
What If Tools Analyze Your Data
Data tables
Goal seek
Scenarios
Tapping the Data menu
Viewing Your Data
Flag for Follow-Up
Adding a Comment
16. Excel Macros and Visual Basic
Recording and Playing Macros

Playing and Saving Macros
Absolute vs. Relative Cell References
Using Formulas in Macros
Making Macros Always Available
Introducing Visual Basic for Applications
Opening a Recorded Macro in Visual Basic
Referencing Cells the VB Way
Changing the Contents of a Cell
Getting More Visual Basic Help
17. Formatting and Charts: Well-Dressed Spreadsheets
Formatting Worksheets

Automatic Formatting with Table Styles

Automatic formatting bonus

The Format Painter
Formatting Cells by Hand

Changing cell size
Hiding and showing rows and columns
Format Cells with Borders and Fill Color
Setting Cell Fill Colors
Changing How Text Looks
Adding number formats
Add or remove decimal places
Changing fonts
Changing the standard fonts
Aligning text
Merging cells
Adding Pictures, Movies, and Text Boxes
Inserting by the Insert menu
Charts
Chart Parts
Step 1: Select the Data
Step 2: Choose a Chart Style
Step 3: Check Your Results
Step 4: Design the Chart Content
Step 5: Refine the Charts Appearance
Transparent Bars
Advanced Analysis Charting
Sparklines: Small, Intense, Simple Datawords
Formatting Sparklines
Moving and Removing Sparklines
18. Printing and Sharing Spreadsheets
Printing Worksheets

Print Preview
Print to PDF Files
Page Setup

Page orientation
Margins tab
Header/Footer tab
Sheet tab
Sharing a Workbook
Protecting the Spreadsheet
Tracking Changes
Merging Workbooks
4. PowerPoint
19. Planning and Creating Great Presentations

Planning the Presentation

The Goals of Your Presentation
Know Your Audience
Tailor the Presentation to the Audience
Outline the Presentation
Build Your Presentation
Practice

Delivering the Presentation

Welcome Your Audience
Introduce Your Presentation
Making the Presentation
Review
Evaluating the Presentation

Designing an evaluation form
Presentation Hardware
Laptops
Projectors

Choosing a projector
Renting projectors
Projection screens
Remote Controls
20. Building a PowerPoint Presentation
Step 1. Choose a Template
Step 2: Specify a Theme
Step 3: Add Slides and Choose Layouts
Changing Themes in Midstream
Step 4: Writing the Outline
Step 5: Building the Show
Using Masters

Slide master
Editing the slide master
Adding new elements to a slide master
Slide layouts
Modifying slide layouts
Handout master
Notes master
View Controls
Navigation
Manipulating Your Slides
Inserting new slides
Inserting slides from other presentations
Duplicating a slide
Deleting a slide
Moving slides around
Hiding slides
How to Build a Slide
Working with Text
Editing and formatting text
Formatting bullets
Other characters as bullets
Graphics as bullets
Adding Graphics, Charts, and Tables
Movies and Sounds
Format Movie options
Format Audio options
Record your own audio
Other Objects
21. Putting On the Show
Adding Movement

Transitions

Add a transition
Choosing transition styles
Subtle
Exciting
Dynamic Content
Customizing your transitions

Multimedia Effects
Adding Animations
Putting Controls on Slides
Adding Narration
Putting On the Show
Setting Up
Rehearsing Your Presentation
Choosing a Navigation Scheme
Presenting Onscreen
Controlling the Show
Using Presenter View
Recycling Your Presentations
Saving Presentations as QuickTime Movies
Broadcasting Presentations on the Web
Saving Slides as Graphics

Send to iPhoto
Save as Pictures
Printing Your Presentation
Page Setup
Printing Your Slides
Notes and Handouts
5. Office As a Whole
22. Making the Most of Graphics and Media

Inserting a Graphic or Media Clip
The Clip Art Gallery

Categories
Online
Adding Your Own Clips
Deleting Clips
Search
Working with Clip Art

AutoShapes, Lines, SmartArt, and WordArt

AutoShapes
Lines
Formatting and Editing Shapes and Lines
SmartArt Graphics
WordArt
Aligning Objects

The Drawing grid
Rotating drawing objects
Modifying Graphics with the Format Dialog Box
Formatting Fills

Fill Color: Standard palette
Fill Color: More Colors
Format fill: Gradients
Format fill: Picture or Texture
Format fill: Pattern
Drawing Lines
Adding Shadows
Glow and Soft Edges Effects
Creating Reflections
3-D Format
3-D Rotation
Adjust Picture
Artistic Filters
Cropping Graphics
Formatting Text Boxes
Size Adjustments
Adjust Position
Storing Favorites in the Scrapbook
Object Linking and Embedding (OLE)
Creating Linked Objects
Editing Linked Objects
Repairing a Broken Link
Overriding Automatic Updating
Creating Embedded Objects
Editing Embedded Objects
23. Customizing Office
Customizing the Ribbon
Customizing Your Toolbars

Showing Other Toolbars
Creating Custom Toolbars

To move a button or delete it from a toolbar
To add a button to a toolbar
To design a new toolbar from scratch

Attaching Custom Toolbars to Documents
Redesigning Your Menus
Adding a Command
Removing a Menu Command
Adding a Menu
Removing a Menu
Moving Whole Menus, or Specific Commands
Resetting Everything Back to Normal
Reassigning Key Combinations
AppleScripting Office
What is AppleScript?
Installing and Running Office Scripts
Installing Applets and Droplets
Installing Script Menu Scripts
Running the Scripts
6. Appendixes
A. Installation and Troubleshooting

Installing Office

Using the Installer
Removing Office

Troubleshooting

Check for a Bad Settings or Preference File
Uninstall and Reinstall Office
Research Your Problem Online
B. The Office Help System
Office Help
Help from Mac OS X
Web-Based Help
C. Office 2011, Menu by Menu
Application Menu

About [Program Name]
Online Registration
Application Menu Preferences
Work Offline (Outlook only)
Turn Off (or On) Office Reminders (Outlook only)
Services
Hide [Program Name]
Hide Others
Show All
Quit [Program Name]
Excel Menus
File Menu
New Workbook
New from Template
Open
Open URL
Open Recent
Close
Save
Save As
Save as Web Page
Save Layout
Web Page Preview
Page Setup
Print Area
Print
Properties
Edit Menu
Undo
Repeat/Redo
Cut, Copy, Copy to Scrapbook
Paste, Paste from Scrapbook, Paste Special
Paste Special
Fill
Clear
Delete
Delete Sheet
Move or Copy Sheet
Find
Replace
Go To
Links
Object
View Menu
Normal
Page Layout
Ribbon
Toolbars
Formula Bar
Status Bar
Media Browser
Toolbox
Formula Builder
Scrapbook
Reference Tools
Compatibility Report
Header and Footer
Comments
Ruler
Custom Views
Full Screen
Zoom
Sized with Window
Chart Window
Insert Menu
Cells
Rows
Columns
Chart
Sparklines
Table
Sheet
Page Break
Function
Name
New Comment
Photo
Audio
Movie
Clip Art
Symbol
Shape
Text Box
SmartArt Graphic
WordArt
Object
Hyperlink
Format Menu
Cells
Row
Column
Selected Chart Area
Sheet
Conditional Formatting
Style
Tools Menu
Spelling
Thesaurus
Dictionary
Language
AutoCorrect
Error Checking
Share Workbook
Track Changes
Merge Workbooks
Protection
Flag for Follow Up
Goal Seek
Scenarios
Auditing
Macros
Add-Ins
Customize Keyboard
Data Menu
Sort
Filter
Clear Filters
Advanced Filter
Form
Subtotals
Validation
Data Table
Text to Columns
Consolidate
Group and Outline
PivotTable Report
Get External Data
Refresh Data
Chart Menu
Chart Type
Save as Template
Move Chart
Source Data
Add Data
Add Trendline
3-D Rotation
Window Menu
Minimize
Zoom Window
Bring All to Front
New Window
Arrange
Hide
Unhide
Split
Freeze Panes
Window List
Help Menu
Search
Excel Help
Welcome to Excel
Get Started with Excel
Check for Updates
Visit the Product Web Site
Send Feedback about Excel
Scripts Menu
About this Menu
Sample Automator Workflows
Outlook Menus
File Menu
New
Open
Open Another Users Folder
Close
Save
Save As
Folder
Import
Export
Page Setup
Print
Edit Menu
Undo
Redo
Cut
Copy
Copy to Scrapbook
Paste
Paste From Scrapbook
Paste and Match Style
Clear
Select All
Duplicate
Delete
Find
Spelling and Grammar
Substitutions
Transformations
Speech
Special Characters
View Menu
Previous
Next
Go To
Columns
Arrange By
View specific Menus:
Reading Pane
Media Browser
Toolbox Scrapbook
Toolbox Reference Tools
Navigation Pane
Ribbon
Hide/Show Toolbar
Customize Toolbar
Message Menu
Reply
Reply to All
Forward
Forward Special
Forward as Attachment
Mark as Read
Mark as Unread
Mark All as Read
Attachments
Sender
Junk Mail
Priority
Follow Up
Categorize
Rules
Move
Draft
Send
HTML Format
Check Names.
Attachments
Signatures
Security
Priority
Follow Up
Categorize
Meeting
Invite Attendees
Recurrence
Time Zone
Signatures
Show As
Private
Categorize
Contact
New E-Mail Message To
New Meeting With
New IM Contact
Forward as vCard
Map Address
Update from Directory
This Contact is Me
Follow Up
Categorize
Move
Task
Mark as Complete
Reply
Reply All
Forward
Recurrence
Priority
Follow Up
Categorize
Move
Note
Forward as Email
Forward as Attachment
Categorize
Move
Format Menu
Font
Style
Size
Color
Highlight
Text Encoding
Increase Font Size
Decrease Font Size
Alignment
Numbered List
Bulleted List
Increase Indent
Decrease Indent
Hyperlink
Tools Menu
Run Schedule
Send & Receive
IMAP Folders
Out of Office (used with Exchange)
Public Folders (used with Exchange)
Rules
Junk E-Mail Protection
Accounts
Window Menu
Minimize
Zoom Window
Progress
Error Log
My Day
Contact Search
Window List
Help Menu
Search
Outlook Help
Welcome to Outlook
Get Started with Outlook
Check for Updates
Visit the Product Web Site
Send Feedback about Outlook
Scripts Menu
PowerPoint Menus
File Menu
New, New from Template, Open, Open URL, Open Recent, Close, Save, Save As
Save as Pictures
Save as Movie
Share
Reduce File Size
Restrict Permissions
Page Setup, Print
Properties
Edit Menu
Undo, Repeat/Redo, Cut, Copy, Copy to Scrapbook
Paste, Paste from Scrapbook
Paste Special
Clear
Select All
Duplicate
Delete Slide
Find
Special Characters
Object
View Menu
Normal, Slide Sorter, Notes Page, Presenter View, Slide Show
Master
Ribbon
Toolbars
Message Bar
Media Browser
Toolbox
Custom Animation
Scrapbook
Reference Tools
Compatibility Report
Header and Footer
Comments
Ruler
Guides
Zoom
Insert Menu
New Slide
Duplicate Slide
Slides From
Section
Text Box
WordArt
Header and Footer
Date and Time
Slide Number
Table
Chart
SmartArt Graphic
Photo, Audio, Movie, Clip Art, Symbol, Shape, Object, and Hyperlink
Format Menu
Font
Paragraph
Bullets and Numbering
Columns
Alignment
Text Direction
Change Case
Replace Fonts
Theme Colors
Slide Background
Shape
Arrange
Reorder Objects
Reorder Overlapping Objects
Bring to Front
Send to Back
Bring Forward
Send Backward
Group
Ungroup
Regroup
Rotate or Flip
Align or Distribute
Tools Menu
Spelling, Thesaurus, Dictionary, Language, AutoCorrect, Flag for Follow Up
Macros
Add-Ins
Slide Show Menu
Play from Start
Play from Current Slide
Broadcast Slide Show
Custom Shows
Presenter View
Rehearse
Record Slide Show
Action Buttons
Action Settings
Custom Animation
Transitions
Hide Slide
Set Up Show
Window Menu
Minimize Window, Zoom Window, New Window, Arrange All, Bring All to Front
Cascade
Next Pane
Window List
Help Menu
AppleScript Menu
Word Menus
File Menu
New Blank Document, New from Template, Open, Open URL, Open Recent, Close, Save, Save As
Save as Web Page
Share
Web Page Preview
Restrict Permissions
Reduce File Size
Page Setup, Print
Properties
Edit Menu
Undo, Repeat/Redo, Cut, Copy, Copy to Scrapbook
Paste, Paste Special
Paste and Match Formatting
Clear
Select All
Links
Object
View Menu
Draft, Web Layout, Outline, Print Layout, Notebook Layout, Publishing Layout, Full Screen
Ribbon
Toolbars
Sidebar
Message Bar
Toolbox
Styles
Citations
Scrapbook
Reference Tools
Compatibility Report
Ruler
Header and Footer
Footnotes
Master Document
Markup
Reveal Formatting
Zoom
Insert Menu
Break
Page Numbers
Date and Time
AutoText
Field
New Comment
Caption
Cross-reference
Index and Tables
Watermark
Tables
Chart
SmartArt Graphic
Photo, Audio, Movie, Clip Art, Symbol, Shape,
Text Box
WordArt
Equation
File
Object
HTML Object
Bookmark
Hyperlink
Format Menu
Font
Paragraph
Document
Bullets and Numbering
Borders and Shading
Columns
Tabs
Drop Cap
Text Direction
Change Case
AutoFormat
Style
[Object]
Font Menu
Tools Menu
Spelling and Grammar
Thesaurus
Hyphenation
Dictionary
Language
Word Count
AutoCorrect
Track Changes
Merge Documents
Protect Document
Block Authors
Unblock All My Blocked Areas
Protect Documents
Flag for Follow Up
Mail Merge Manager
Envelopes
Labels
Letter Wizard
Contacts
Macros
Templates and Add-Ins
Customize Keyboard
Table Menu
Draw Table
Insert
Delete
Select
Merge Cells
Split Cells
Split Table
AutoFit and Distribute
Heading Rows Repeat
Convert
Sort
Formula
Gridlines
Table Properties
Window Menu
Zoom Window, Minimize Window, Bring All to Front
New Window
Arrange All
Split
Window List
AppleScript Menu
Help Menu
D. SkyDrive and Office Web Apps
Why Compute in the Cloud?
Signing Up for SkyDrive and Office Web Apps
Storing Files on SkyDrive

Using the Document Connection to SkyDrive
Creating SkyDrive and Sharing Folders
Managing Your SkyDrive Folders
Working with the Office Web Apps
Moving Documents Between Web Apps and Office 2011 Programs
Index
About the Author
Colophon
SPECIAL OFFER: Upgrade this ebook with OReilly
Dzieki opcji "Druk na żądanie" do sprzedaży wracają tytuły Grupy Helion, które cieszyły sie dużym zainteresowaniem, a których nakład został wyprzedany.
Dla naszych Czytelników wydrukowaliśmy dodatkową pulę egzemplarzy w technice druku cyfrowego.
Co powinieneś wiedzieć o usłudze "Druk na żądanie":
usługa obejmuje tylko widoczną poniżej listę tytułów, którą na bieżąco aktualizujemy;
cena książki może być wyższa od początkowej ceny detalicznej, co jest spowodowane kosztami druku cyfrowego (wyższymi niż koszty tradycyjnego druku offsetowego). Obowiązująca cena jest zawsze podawana na stronie WWW książki;
zawartość książki wraz z dodatkami (płyta CD, DVD) odpowiada jej pierwotnemu wydaniu i jest w pełni komplementarna;
usługa nie obejmuje książek w kolorze.
W przypadku usługi "Druk na żądanie" termin dostarczenia przesyłki może obejmować także czas potrzebny na dodruk (do 10 dni roboczych)
Masz pytanie o konkretny tytuł? Napisz do nas: sklep[at]helion.pl.
Książka, którą chcesz zamówić pochodzi z końcówki nakładu. Oznacza to, że mogą się pojawić drobne defekty (otarcia, rysy, zagięcia).
Co powinieneś wiedzieć o usłudze "Końcówka nakładu":
usługa obejmuje tylko książki oznaczone tagiem "Końcówka nakładu";
wady o których mowa powyżej nie podlegają reklamacji;
Masz pytanie o konkretny tytuł? Napisz do nas: sklep[at]helion.pl.
Office 2011 for Macintosh: The Missing Manual
Proszę wybrać ocenę!
Proszę wpisać opinię!
Proszę zaakceptować regulamin oraz politykę prywatności!
* pola obowiązkowe