This Is Service Design Doing. Applying Service Design Thinking in the Real World
(ebook)
(audiobook)
(audiobook)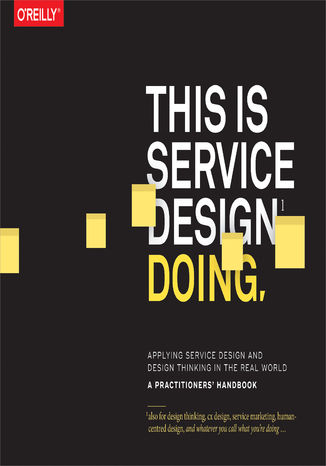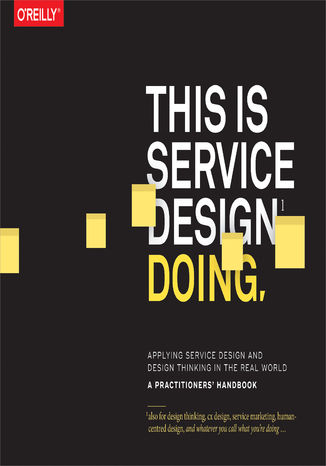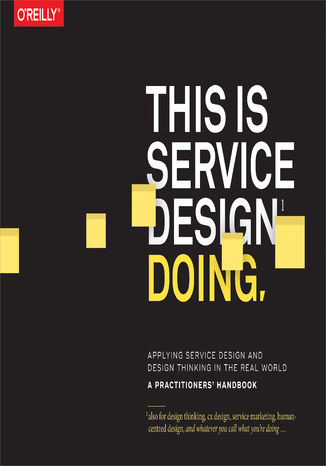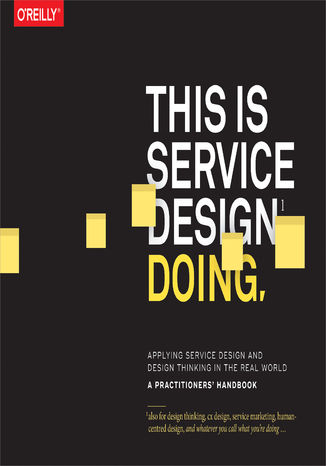 Ocena:

Stron:

568

2w1 w pakiecie:

ePub

Mobi
Opis książki
How can you establish a customer-centric culture in an organization? This is the first comprehensive book on how to actually do service design to improve the quality and the interaction between service providers and customers. You'll learn specific facilitation guidelines on how to run workshops, perform all of the main service design methods, implement concepts in reality, and embed service design successfully in an organization.
Great customer experience needs a common language across disciplines to break down silos within an organization. This book provides a consistent model for accomplishing this and offers hands-on descriptions of every single step, tool, and method used. You'll be able to focus on your customers and iteratively improve their experience.
Move from theory to practice and build sustainable business success.

0 Marc Stickdorn, Markus Edgar Hormess, Adam Lawrence
Szczegóły książki
ISBN Ebooka:

978-14-919-2713-7, 9781491927137

Data wydania ebooka:

2018-01-02 Data wydania ebooka często jest dniem wprowadzenia tytułu do sprzedaży i może nie być równoznaczna z datą wydania książki papierowej. Dodatkowe informacje możesz znaleźć w darmowym fragmencie. Jeśli masz wątpliwości skontaktuj się z nami sklep@helion.pl.

Język publikacji:

angielski

Rozmiar pliku ePub:

74.6MB

Rozmiar pliku Mobi:

74.6MB
Spis treści
 
KPIs
More Online
Hello There! Preface

Where we come from: This books predecessor
Why this book is necessary
Who should read this book
Who we are
Who is allowed to write this kind of book?
How to co-create a book
1. Why Service Design?
What Do Customers 1 Want?
The Challenges for Organizations

Empowered customers
Silos
The need for innovation
Organizations are reacting
Why A Service Design Approach?
2. What is Service Design?
Different Views
Service design as a mindset
Service design as a process
Service design as a toolset
Service design as a cross-disciplinary language
Service design as a management approach
Origins and Progress
What Service Design Isnt
It is not simply aesthetics or putting lipstick on a pig
It is not simply customer service
It is not simply service recovery
The Principles of Service Design, Revisited
The original
The new

The evolution of the principles of service design
3. Basic Service Design Tools
Tools vs. Methods
Research Data
Personas

A Portrait image
B Name
C Demographics
D Quote
E Mood images
F Description
G Statistics
Journey Maps
A Main actor
B Stages
C Steps
D Storyboards
E Emotional journeys
F Channels
G Stakeholders
H Dramatic arc
I Backstage processes
J What if?

Job to be done
Conversion funnel
Qualitative research data
Quantitative research data
Custom lanes
A typology of journey maps
1. Reliability: Assumption-based vs. research-based journey maps
2. State of journey map: Current-state vs. future-state journey maps
3. Main actor/perspective: Customer vs. employee journey maps
4. Scope and scale: High-level vs. detailed journey maps
5. Focus: Product-centered vs. experience-centered journey maps
6. Lanes and level of depth: Adding various lanes in journey maps
Service blueprint
A Physical evidences
B Customer actions
C Line of interaction
D Frontstage actions
E Line of visibility
F Backstage actions
G Line of internal interactions
H Support processes
I Custom perspectives/lines/lanes
System Maps
Stakeholder maps
Value network maps
Ecosystem maps
Stakeholder maps

1 Sectors
2 Stakeholders
3 Relationships
Value network maps
1 Sectors
2 Stakeholders
3 Value exchanges
Ecosystem maps
1 Sectors
2 Actors
3 Relationships or value exchanges
Service Prototypes
Purpose
Prototyping questions
Fidelity
Context and audience
Methods
Prototypes of (inter)actions, service processes, and experiences

A Actors
B Props
C Stage
D Service story, (inter)action, and dialogue
E Subject matter content
Prototypes of physical objects
A Function
B Form
C Size and scale
D Materials (and tools)
Prototypes of environments, spaces, and architecture
A Layout and space
B Form
C Function
D Size and scale
E Materials (and tools)
Prototypes of digital artifacts and software
A Display
B Screens
C Interaction elements
D Content elements
E Structure and flow
F Function
G Look and feel/graphical elements
H Media and prototyping environment
Prototypes of ecosystems and business value
Business Model Canvas
1 Value propositions
2 Customer segments
3 Channels
4 Customer relationships
5 Key activities
6 Key resources
7 Key partners
8 Cost structure
9 Revenue streams
4. The Core Activities of Service Design
In Search of a Process for Designing a Service
Core Patterns in the Design Process

Divergent and convergent thinking and doing
Make sure you are solving the right problem before solving the problem right
All design processes are alike... different
Introducing the Core Activities of the Tisdd Service Design Framework
5. Research
Move Beyond Assumptions
The Process of Service Design Research

Research scope and research question

Exploratory research vs. confirmatory research
Research into existing services and physical or digital products vs. new ideas/concepts

Research planning

Research loops
Sample selection
Research context
Sample size
Data collection
Research methods
Method triangulation
Data triangulation
Researcher triangulation
Indexing
Data visualization, synthesis, and analysis
Visualizing data
Peer review and co-creation
Codifying data
Using research outcomes
Methods
Methods of Data Collection
Desk Research Preparatory Research
Desk Research Secondary Research
Self-Ethnographic Approach Autoethnography
Self-Ethnographic Approach Online ethnography
Participant Approach Participant observation
Participant Approach Contextual interview
Participant Approach In-depth interview
Participant Approach Focus groups
Non-Participant Approach Non-participant observation
Non-Participant Approach Mobile ethnography
Non-Participant Approach Cultural probes
Co-Creative Workshop Co-creating personas
Co-Creative Workshop Co-creating journey maps
Co-Creative Workshop Co-creating system maps
Methods of Data Visualization, Synthesis, and Analysis
Building a research wall
Creating personas
Mapping journeys
Mapping systems
Developing key insights
Generating jobs-to-be-done insights
Writing user stories
Compiling research reports
Cases
Case: Applying Ethnography To Gain Actionable Insights

Zahlhilfe program: An intersectoral cooperation to prevent electricity cutoffs

The challenge
Project objectives
Our project process: From briefing to evaluation in six phases
Systematic approach: A guarantee for accountability, a basis for decision making
Results
Key Takeaways
Case: Using Qualitative and Quantitative Research in Service Design
Policy Lab Work & Health Project

The problem
The approach
The insights
Idea generation
Scaling
Lessons learned
KEY TAKEAWAYS
Case: Developing and Using Valuable Personas
Met Office app: A goal-based persona case study

What do we need to understand?
Step 1: Use what you have what do we know already?
Step 2: Distilling data into value curves
Step 3: Testing assumptions through card sorting
Step 4: Value curve trend analysis
Step 5: Affinity mapping exercise
Step 6: Persona development workshop
Step 7: Sharing
Step 8: Ongoing iteration
Learnings and next steps
Key Takeaways
Case: Illustrating Research Data With Journey Maps
Promoting youth mental health: The impact of mapping the journey

The challenge
Journey mapping workshop
Journey map visualization
Journey map outcome
Impact
Key Takeaways
Case: Current-State (as-is) and Future-State (to-be) Journey Mapping
The bigger picture: Projects building up to more long-term and strategic value

Introduction
Customer journey maps illustrating as-is and to-be service experiences 56
Systematic approach generating progressive deliverables
From customer journeys to customer life cycles
Key Takeaways
6. Ideation
Where Ideas Come From
Ideas
Decisions
The Process of Ideation

Planning ideation

A Starting point/scope
B Immersion and inspiration
C Split the challenge
D Select contributors
E Method selection
F Plan ideation loops
G Set stopping criteria
H Fix outputs

Idea generation

Briefing and inspiring participants
Method selection
Managing energy
Idea selection
The groan zone
Physical context of decisions
Agreeing to decide and selecting methods
Documentation
Methods
Ideation Methods
Pre-Ideation Slicing the elephant and splitting the ideation challenge
Pre-Ideation Ideas from journey mapping
Pre-Ideation Ideas from system mapping
Pre-Ideation How might we ? questions from insights and user stories
Generating Many Ideas Brainstorming and brainwriting
Generating Many Ideas 10 plus 10
Adding Depth and Diversity Bodystorming
Adding Depth and Diversity Using cards and checklists
Adding Depth and Diversity Ideation based on analogies and association
Understanding, Clustering, and Ranking Options Octopus clustering
Understanding, Clustering, and Ranking Options Benny Hill sorting (Thirty-Five)
Understanding, Clustering, and Ranking Options Idea portfolio
Understanding, Clustering, and Ranking Options Decision matrix
Reducing Options Quick voting methods
Reducing Options Physical commitment
Cases
Case: Opening the Design Studio to Your Customers

KLM cares: Developing ideas through co-creation with customers

Service Design Studio
Design as the language
Conclusion
Key Takeaways
Case: Co-Design With Hybrid Methods
From vision to reality in 90 days

Project background
The people and the design brief
From understanding to creating: Service design tools out in the wild
The solution
Making it a reality
Key Takeaways
Case: Building on Solid Research
Creating digital tools for mental health and employment support in the UK

Phases of research
Key tools and processes
Looking ahead
Key Takeaways
Case: Mixed-Method Ideation
Opportunities for innovation in patient experience

Uncovering opportunities
Ideas to prototypes
A long-term vision and action
Key Takeaways
Case: Supporting Creativity With Trigger Visuals
Using customer journey mapping to understand cookstove users in Kenya

The overall ideation process
The CJM as a communication tool for stakeholders
Key Takeaways
7. Prototyping
Reducing Uncertainty
The Process of Service Prototyping

Introducing an actionable framework for service prototyping
Decide on the purpose

Prototyping to explore
Prototyping to evaluate
Prototyping to communicate and present

Decide on your prototyping questions

Start with a value prototype
Assess idea and project context
Iterate
Assess what to make or build
Planning prototyping
Audience

Roles in the team
Fidelity
Prototyping context
Prototyping loops
Multitracking
Method selection
Running prototyping sessions
Data synthesis and analysis
Visualizing prototyping data
Methods
Prototyping Methods
Prototyping Service Processes and Experiences Investigative rehearsal
Prototyping Service Processes and Experiences Subtext
Prototyping Service Processes and Experiences Desktop walkthrough
Prototyping Physical Objects and Environments Cardboard prototyping
Prototyping Digital Artifacts and Software Rehearsing digital services
Prototyping Digital Artifacts and Software Paper prototyping
Prototyping Digital Artifacts and Software Interactive click modeling
Prototyping Digital Artifacts and Software Wireframing
Prototyping Ecosystems and Business Value Service advertisement
Prototyping Ecosystems and Business Value Desktop system mapping (a.k.a. Business Origami)
Prototyping Ecosystems and Business Value Business Model Canvas
General Method Mood boards
General Methods Sketching
General Methods Wizard of Oz approaches
Cases
Case: Enabling Effective Co-Creation Through Prototyping Minimum Viable Solutions and Contextual Mock-Ups

Innovation on the shop floor: How to demonstrate the value of design thinking to a manufacturing organization

Crafting a design thinking strategy and proving it in reality
From need finding to prototyping: Finding opportunities beyond the obvious and prototyping in design thinking
Prototyping: Making things tangible on the shop floor
Learnings
Key Takeaways
Case: Using Prototyping and Co-Creation to Create Ownership and Close Collaboration
Reducing the waiting time for breast cancer patients

Service thinking and co-creation
The new Breast Diagnostics Centre (BDS)
Key Takeaways
Case: Enabling Staff and Stakeholders to Prototype for Continuous Evolution
Infinite prototyping

Complex services need evolutionary improvements
Collaborative insights
Staff taking over the prototypes
Scaling the prototypes
Key Takeaways
Case: Minimum Lovable Products, Living Prototypes, and High-Fidelity Sketching In Code
ATO Partner Space case study

Building a team of stakeholders
Creating a minimum lovable product
Spreading the service design practice
Key Takeaways
Case: Using Role-Plays and Simulations in Large-Scale 1:1 Prototypes
Prototyping at scale: Redesigning Lufthansas business class experience

Learning by doing
Designing the personal experience
Prototyping, at scale
Building for buy-in
Key Takeaways
Case: Using Multifaceted Prototyping to Create and Iterate Business and Service Models
Multifaceted prototype evolution over time

How can we assure proper system installation?
What is the business model behind this?
Side effects of our pilot research
Evolution of the business
Key Takeaways
8. Implementation
The Sharp End of Service Design
From Prototype to Production

What is implementation?
Planning for human-centered implementation
Four fields of implementation
Service Design and Change Management
Design involves desired behavior
Know how people change

Be change
You cant change people: Set up the context for change instead
Understanding what will change
Beliefs and emotions
1 Use a human-centered and stakeholder-focused approach
2 Participation and co-creation
3 (Visual) storytelling
Service Design and Software Development
How to create and maintain a meaningful development backlog
Basic factors

Agile
Lean
Minimum viable product
Early user feedback
Tracer bullet development
Technical hygiene factors
Implementation
Preparation
Idea wall
Research
Ideation and mini-sprint
Software prototyping
Build and implement
Release
Making the change
Service Design and Product Management
Imagination phase
Definition phase
Realization phase
Support/use phase

1 Market introduction
2 Market growth
3 Market maturity
4 Market decline
5 Support

Retirement/disposal phase
The role of services for product management
Service Design and Architecture
Stage 1: Mindset change
Stage 2: Needs assessment
Stage 3: Creation
Stage 4: Testing
Stage 5: Building
Stage 6: Monitoring
On the other side: What can service design learn from architecture?
Cases
Case: Empowering Employees for Sustainable Implementation of a Service Design Project

Best ride there is! How to create and maintain a perfect customer experience

Initial situation: A healthy company with tradition
Design challenge and project goals
The agencys approach: A classic service design process
How implementation worked in detail
Talking to the employees
Measurable results after employee training
Key insights and learnings
Gaining internal pride for the results
Team emotions as driving factor
Key Takeaways
Case: Implementing Service Design to Create Experiences, Momentum, and Results In sales
Transforming customer and seller experience

The challenge of increased complexity
Creating memorable wow experiences
Implementing small steps to build momentum and results
Key Takeaways
Case: Implementing Service Design in a Software Startup
From canvas to reality

Starting a business with service design in its DNA
Starting bootstrapped
Developing our business model
Selling alpha and beta access
Building a community
Iterating product and pricing
Connecting features with pricing in plans
Growth
Lessons learned
Key Takeaways
Case: Creating Measurable Business Impact Through Piloting and Implementing Service Design Projects
Creating a vision for the future: Sustainable, high-quality care for the elderly

The agency approach: The first phase is always understand
Developing and testing new approaches
A future-proof plan with immediate benefits
Key Takeaways
9. Service Design Process and Management
Managing Iterations
Understanding the Service Design Process: a Fast-Forward Example

Planning and preparation
Research 11
Ideation 25
Prototyping 34
Implementation 41
Planning for a Service Design Process
Brief: Purpose, scope, and context
Preparatory research

Data collection for planning
Assessment of potential development directions
Project team and stakeholders
Core project team
Extended project team
Structure: Project, iterations, and activities
Breaking up your project
Planned iterations
Planning core activities
Plan for research
Plan for ideation
Plan for prototyping
Plan for implementation
Multitracking
Project phases and milestones
Identify and map project phases
Set outputs and milestones
Outputs and outcomes
Going beyond the tangible
Flow of project knowledge, ideas, and insights
Documentation
Document your process and decisions
Document your tangible outputs
Keep the documentation accessible
Documenting the intangible outcomes
Budgeting
Mindsets, principles, and style
Managing The Service Design Process
Iteration planning
Iteration management

Manage focus between big picture and details
Manage problem and solution
Day-to-day project management
Onboarding and communicating with co-creators
Iteration review
Content reviews
Team retrospectives
Examples: Process Templates
Cases
Case: Creating Repeatable Processes to Continually Improve Services and Experiences at Massive Scale

Continual improvement of the Olympic spectator experience (when you know it wont be right on day one)

1 Listen
Qualitative and quantitative
2 Learn
Daily report
3 Act
Prototype early
4 Improve
Key Takeaways
Case: Managing Strategic Design Projects
Vodafone: Retail meets service design

Key challenge
Prototyping methods
Redesigned store
Key Takeaways
Case: Using a Five-Day Service Design Sprint to Create a Shared Cross-Channel Strategy
Itaús design challenge: New brands tone of voice for digital channels
Key Takeaways
10. Facilitating Workshops
Why Facilitate?
Key Concepts of Facilitation

Consent
Status
Neutrality
Styles and Roles of Facilitation
Adopting a role
Co-facilitation
Can a team member be a facilitator?
Success Factors
Building the team
Purpose and expectations
Planning the work
Creating a safe space

Own the space
Start in familiar territory
Invoke authority
Break with routine
Ease in
Give orientation
Sh!tty first drafts
Mix activities, make a mess
Avoid killer words
Offer safety nets
Avoid judgment
Notice more and adapt
Fail first
Work modes in teams
One page, one pen
One page, many pens
Many pages, many pens
Key Facilitation Techniques
Warm-ups
Timing
The room
Tools and props
Visualization
Post it or lose it: The experts guide to sticky notes
Space, distance, and positioning
Feedback
Changing status
Doing, not talking
Growing as a facilitator
Methods
Three-brain warm-up
Color-chain warm-up
Warm-Up Yes, and warm-up
Feedback Red and green feedback
Cases
Case: The Energizing Power of the Unfamiliar

Redefining customer experience in the Philippines company

Design Studio workshops and going slide-less for the first time
Observations and interviews
Outcomes
Key Takeaways
Case: Pivot and Focus
Setting up and rocking the day or the room

Pivoting during a workshop
Using the right tool at the right time with the right people
Getting real with your clients
Nothing beats empathy
Key Takeaways
11. Making Space for Service Design
Why Have a Dedicated Space?
Types of Spaces

Mobile solutions: Kits, carts, and trucks
Temporary/remote: The pop-up
Temporary/in-house: The squat
Permanent/remote: The retreat or outpost
Permanent/in-house: The studio
Building the Space
Walls
Division of the space
Sound
Flexibility
Furnishing
Connections
Low and high tech
Inspiration
Scars
Lay out the process?
Space or no Space?
Cases
Case: Sending a Message in a Major Organization

Why space is more than just another playground

Introduction: From process orientation to touchable customer orientation
Its not just a room
The impact of space
Key Takeaways
Case: Sowing the Seeds of Innovation and Change
Spreading the co-creation culture in China

Facilitating innovation
A flexible and dynamic space
Creating an ecosystem
Key Takeaways
12. Embedding Service Design in Organizations
Getting Started

How to introduce service design in an organization
Start with small projects
Secure management buy-in
Raise awareness
Build up competence
Give room to try
Scaling Up
How to set up a service design team in an organization
The core service design team
The extended project teams
Choose a name that fits your culture
Connect with the wider service design community
Establishing Profiency
How to lead organizations that integrate service design
Understand the design process
Lead through co-creation
Eat your own dog food
Practice empathy
Look beyond quantitative statistics and metrics
Reduce fear of change and failure
Use customer-centric KPIs
Disrupt your own business
Make design tangible
Bring service design into the organizational DNA
Design Sprints
How to set up service design as an ongoing activity in an organization
Research 30
Ideation 31
Prototyping 32
Implementation 33
Sprints in organizations
Cases
Case: Including Service Design in Nationwide High School Curricula

Service design in secondary schools

Service design as a school subject
Meeting different goals
Implementation
Nationwide teacher training
Gaining experience
Prospects
Key Takeaways
Case: Introducing Service Design in a Governmental Organization
Unleashing creativity in an exhausted governmental organization

Engaging employees
Effects on organization
Key Takeaways
Case: Increasing National Service Design Awareness and Expertise
The emergence of service design in Thailand

Workshops
Training courses
Large company adoption
Creative district
Key Takeaways
Case: Integrating Service Design in a Multinational Organization
Redesigning Deutsche Telekom

The challenge
Our goal
From doing to thinking
Educational framework
Learnings
Key Takeaways
Case: Creating a Customer-Centric Culture Through Service Design
Toward a sustainable customer-centric organization

Changing the emphasis
Learning by doing
An ongoing process
Broad involvement
Phased outcomes
Key Takeaways
Case: Building Up Service Design Knowledge Across Projects
Working with moving targets

Various levels of questions
Various speeds for exploration
Working with shared online platforms
Various layers of deliverables
Additional added value across projects
Key Takeaways
13. Co-Authors
14. Main Authors
A. This is Service Design Doing.
INDEX
A
B
C
D
E
F
G
H
I
J
K
L
M
N
O
P
Q
R
S
T
U
V
W
X
Y
Z
Dzieki opcji "Druk na żądanie" do sprzedaży wracają tytuły Grupy Helion, które cieszyły sie dużym zainteresowaniem, a których nakład został wyprzedany.
Dla naszych Czytelników wydrukowaliśmy dodatkową pulę egzemplarzy w technice druku cyfrowego.
Co powinieneś wiedzieć o usłudze "Druk na żądanie":
usługa obejmuje tylko widoczną poniżej listę tytułów, którą na bieżąco aktualizujemy;
cena książki może być wyższa od początkowej ceny detalicznej, co jest spowodowane kosztami druku cyfrowego (wyższymi niż koszty tradycyjnego druku offsetowego). Obowiązująca cena jest zawsze podawana na stronie WWW książki;
zawartość książki wraz z dodatkami (płyta CD, DVD) odpowiada jej pierwotnemu wydaniu i jest w pełni komplementarna;
usługa nie obejmuje książek w kolorze.
W przypadku usługi "Druk na żądanie" termin dostarczenia przesyłki może obejmować także czas potrzebny na dodruk (do 10 dni roboczych)
Masz pytanie o konkretny tytuł? Napisz do nas: sklep[at]helion.pl.
This Is Service Design Doing. Applying Service Design Thinking in the Real World
Proszę wybrać ocenę!
Proszę wpisać opinię!
Proszę zaakceptować regulamin oraz politykę prywatności!
* pola obowiązkowe